Peaks and lakes of the Rila and Pirin mountains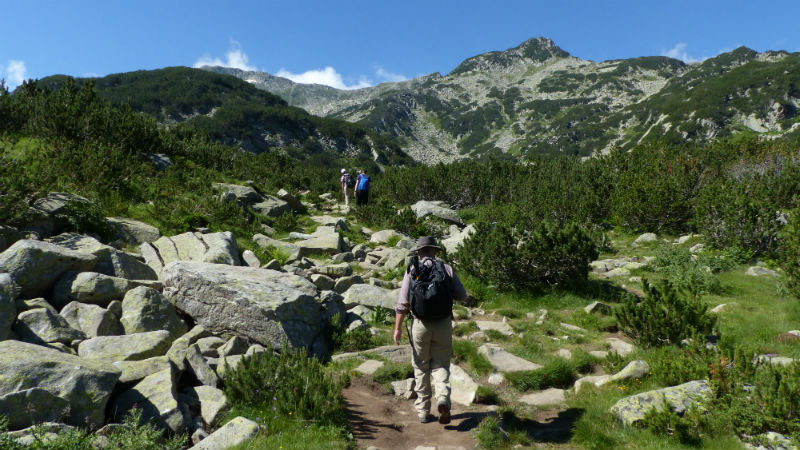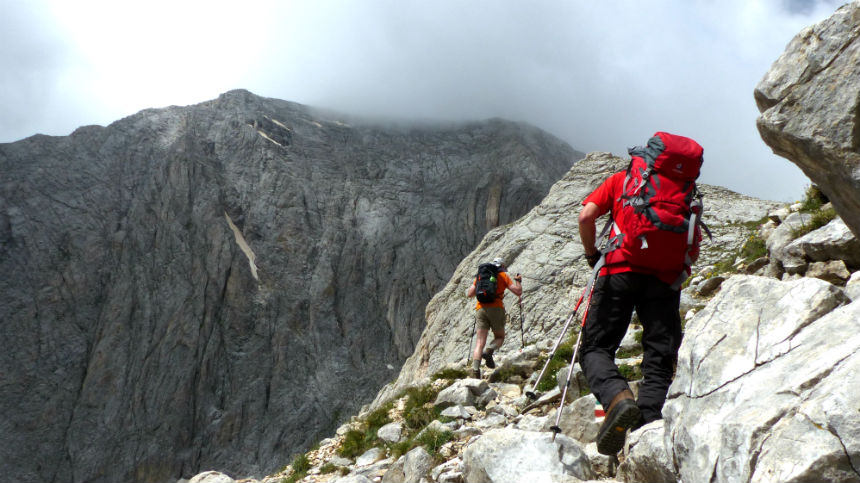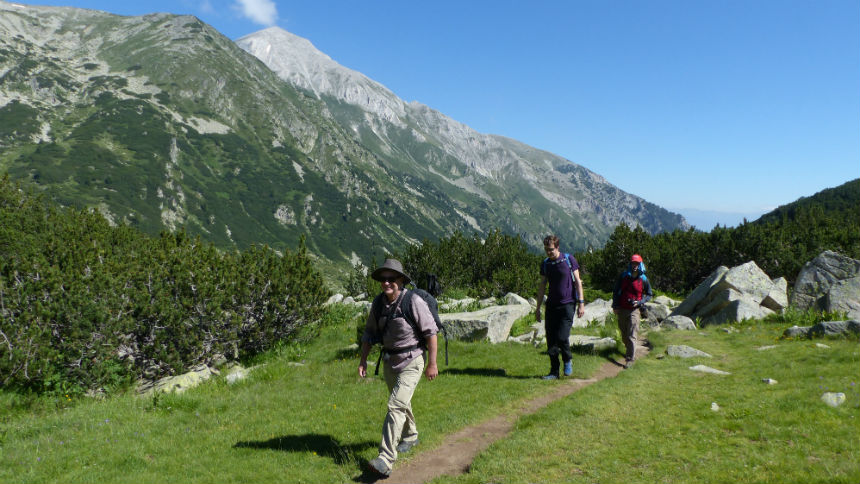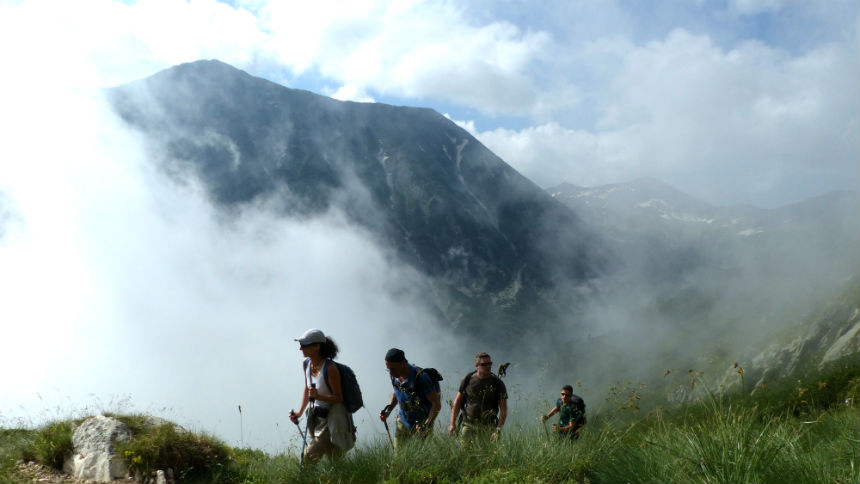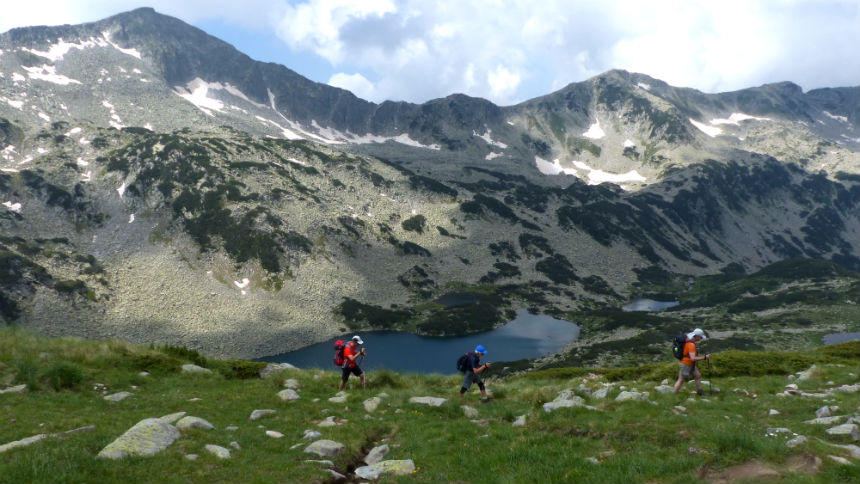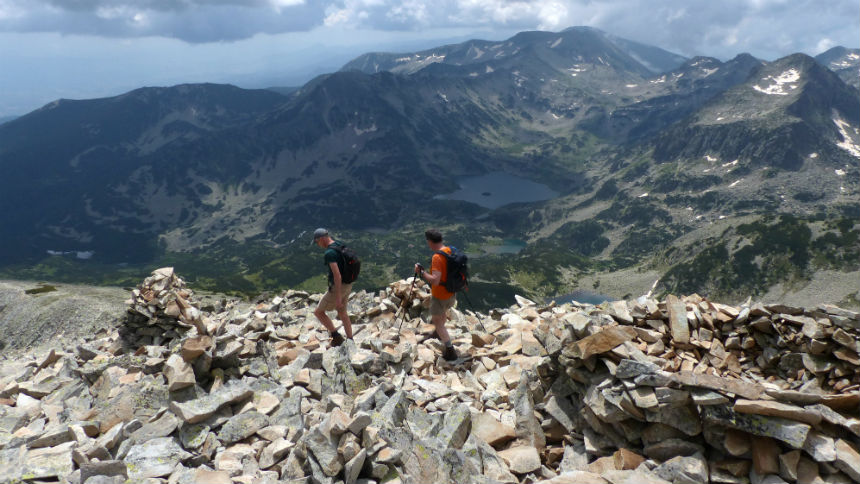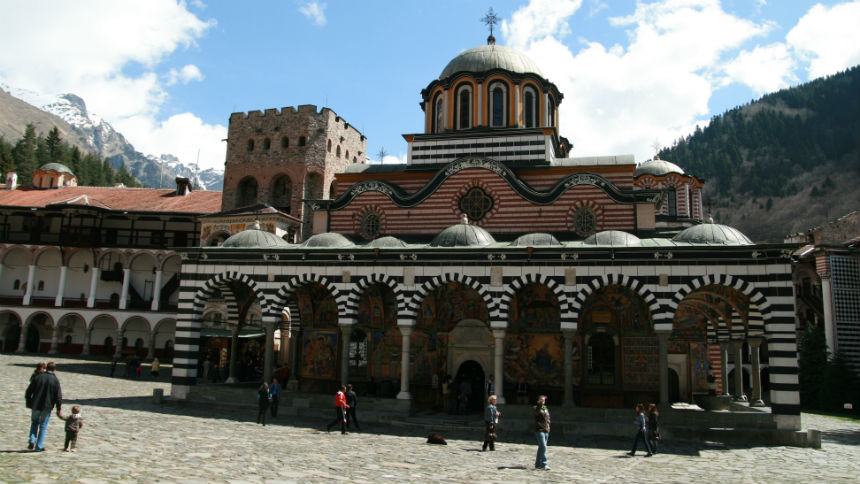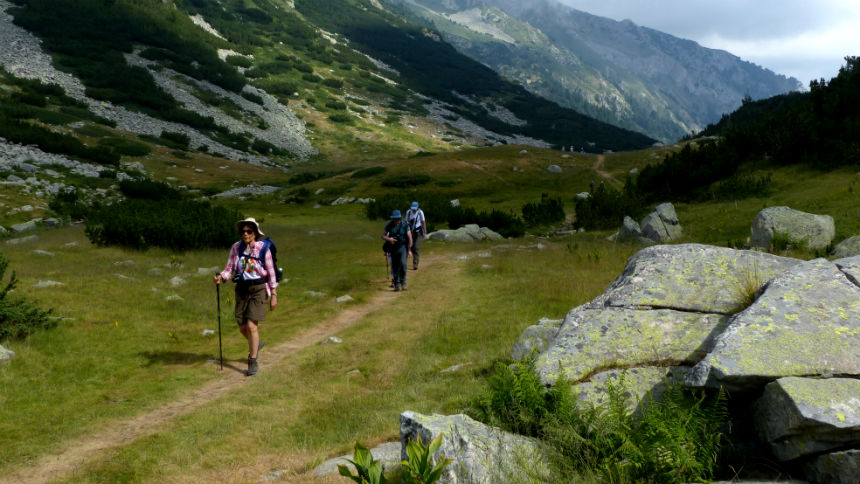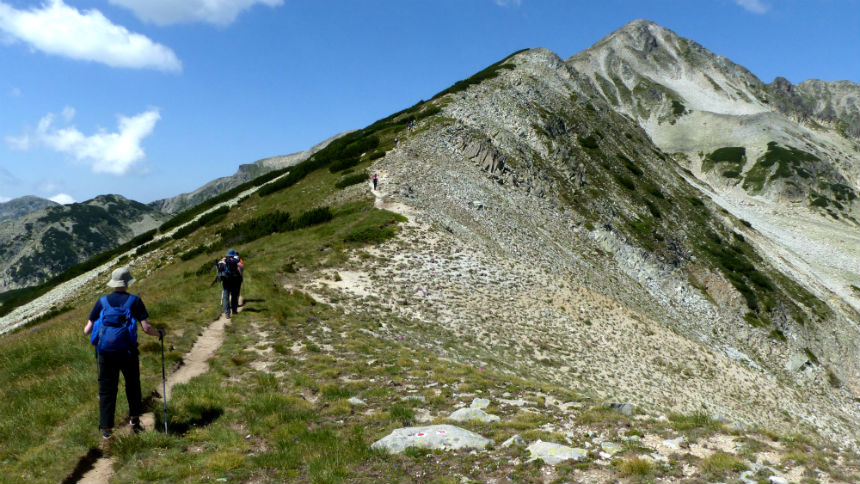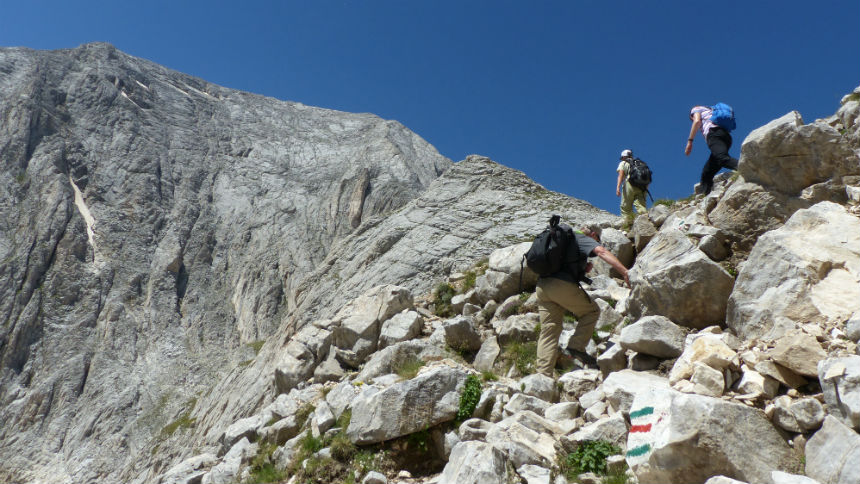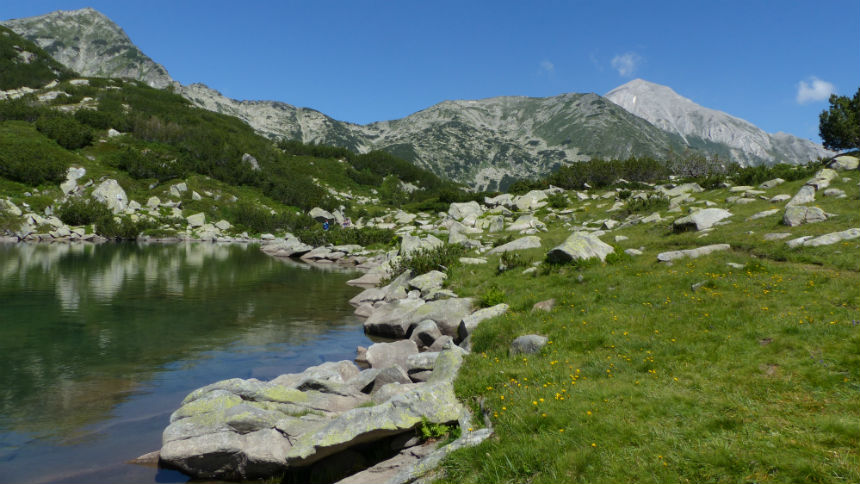 Looking for an independent trekking tour to test your hiking fitness? Bored of the popular walking destinations in the Alps and the Pyrenees? You have come to the right place, looking at our most challenging self-guided hiking trek, which covers the very best of the highest Bulgarian mountains: Rila and Pirin. And for peace of mind – with all ground transfers included!
Climb the giant of Rila, Mount Musala (2925m), highest in Bulgaria and on the Balkan Peninsula, trace dramatic ridges, visit the world-famous UNESCO site Rila Monastery and thrill on the challenging climb to the Pirin summit of Mount Vihren (2914m). Panoramic mountain views will take your breath away along an almost infinite series of trails to alpine meadows, rocky Cirques, remote glacial lakes and onto spectacular ridges and summits.

This trip is definitely not suitable for novices as you'll be trekking high above the tree line, amongst some of the wildest mountains to be found in Europe. Of all self-guided hiking treks we offer in Bulgaria, this one is the most difficult. It is meant only for very well-trained hikers with an ample experience of dealing with bad climate conditions up in the mountains (incl. fog, thunderstorms etc.) and for people used to walk over rocky slopes for miles, overtaking steep ascends/descends now and then. The terrain is alpine and includes trails over steep slopes, where sure-footedness is necessary. Patches of snow may still be present on some of the trails until the end of July.

Note that the below program is just an example, which can be modified as per your requirements to include more hiking in Rila or Vitosha mountains, extra nights in Sofia and even easier hikes in the Rhodope Mountains. For more details please just use the contact form on your right hand side.

The tour program can be shortened or extended to meet your travel period.
Itinerary
Day 1: We meet you at Sofia Airport and take you to the village of Govedartsi, where you will have three overnight stays.
Day 2: The attempt on the Balkans' highest summit Musala (2925m/9596ft) is left for the first hiking day. To do so you get a transfer from Govedartsi to Borovets resort, where you board the cabin lift to the trailhead. The path is not particularly arduous, yet is particularly panoramic, with the rocky face of Musala visible the whole time while you transit a number of Cirques, glacier lakes and mountain shelters. The view from the peak to surrounding uplands and peaks is head-turning. (5-6hrs of walking; 14,20km/8,82miles; climbing and descending 690m/2264ft)
Day 3: A shaded path through the Rila's ancient spruce forests takes you up to the alpine parts of the mountain and the Cirque of the Seven Rila Lakes. Located at between 2100 and 2500 metres (6900 to 8200ft) above sea level, these famous glacier lakes will charm you with their magnificent scenery which you can survey from the edge of the highest one. (5-6 hrs of walking; 18,7km/11,6miles, climbing and descending 1310m/4298ft)
N.B. You can extend your program in Govedartsi with more nights to include climb to Mount Malyovitsa, or trek to The Scary Lake etc.
Day 4: You bid farewell to Rila and set off for Pirin. During this day, which is meant for relax, you will stop for a short visit at Rila Monastery, a UNESCO World Heritage Site. This is the most famous and largest Christian monastery in Bulgaria. The exceptional frescoes in the central church form a gallery of masterpieces of Renaissance art and could be considered a Bulgarian analogue of the frescoes of the Sistine chapel. Thence, you proceed to Bansko at the foot of Pirin Mountains, which will be your base for the following four nights. In the afternoon you can stroll along the cobbled streets and the charming ancient houses in the old part of the town.
Day 5: Car transfer brings you above Dobrinishte resort, at Gotse Delchev Hut (appr. 40min). Chair cable car then takes you up to the Bezbog Hut. This is the setting-off point for the hiking trek to the Polezhan Summit (2851m/9354ft) which offers one of the most beautiful panoramas in the Pirin, over 17 stunning glacier lakes, including the largest Popovo Lake (30m/100ft deep). Polezhan is the 5th highest summit in the Pirin. It is surrounded by three Cirques with three groups of lakes - Disilishki in the north, Polezhanski in the south and Strazhishki in the west. You use the classic route trough the northeast ridge, which is not difficult or too steep, except of the last 15-minute stage of the summit. (5hrs of walking; From 6,9km/4,3miles To 7,9km/4,9miles; climbing and descending from 770m/2526ft To 840m/2756ft)
Day 6: Pre-arranged transfer brings you up to the Vihren Hut (appr. 30min) where you set off on a hiking trek through the pretty Cirque of the Banderishki Lakes. From there, you go across into the neighbouring valley and the Todorini Ochi Lakes and thence through the thick spruce forests of the Yulen Nature Reserve on to the valley of the playful Demyanitsa River. Stunning sceneries will be expecting you behind every corner. (6-7hrs of walking; 15,3km/9,5miles; climbing 612m/2007ft and descending 1215m/3986ft)
For those, who do not want to exhaust themselves before the most difficult climb to Mount Vihren on Day 7 (or in case of bad weather conditions), we have prepared an easier and shorter version, which is not at all less panoramic. Loop walk among the lakes in the Bunderishki Lake Cirque will take you to all five of them, where you can have rest on their shores and enjoy the serenity of the rocky outcrops around you. (3,30-4hrs of walking; 7,8km/4,8miles; climbing and descending 470m/1542ft)
Day 7: Time to attempt the Pirin's premier summit, Vihren (transfer time each way: appr. 30min). You trek through the Golem Kazan (The Giant Cauldron) area beneath the breathtaking sheer 300m/1000ft northern wall of Vihren, whose dolomite precipices offer shelter to rare edelweiss flowers and fretful herds of Balkan Chamois (wild goats). The views are genuinely overwhelming, yet they are just the prelude to the panoramas that open up from the summit over a sea of jagged peaks all around. (3,30-4hrs of walking; 7,8km/4,8miles; climbing and descending 470m/1542ft)(6hrs of walking; 7,3km/4,5miles; climbing and descending 960m/3150ft.).
Day 8: Transfer from Bansko to Sofia Airport in connection with your flight (appr. 2,30-2,45hrs).
N.B. You can book extra nights in Sofia to explore the capital of Bulgaria or to include self-guided trek in Vitosha Mountains.

A DETAILED ROUTE BOOK AND MAPS WILL BE PROVIDED UPON ARRIVAL
Dates, Prices & Remarks
Accommodation: family-run pension including breakfast and dinner (Day 1 to Day 3) and 3-star hotel on bed & breakfast basis (Day 4 to Day 8; there are numerous options to have dinner in the taverns and restaurants of Bansko); en-suite rooms everywhere;

Best period: mid-June - mid-September;
(this program is meant to suit Tuesday-Saturday arrivals only; as for the climb to Mt. Musala a cabin lift is needed (which doesn't work Monday and Tuesday), should you wish to travel on different days of the week (i.e. Sunday to Monday) we will have to rearrange the program and possibly put Pirin before Rila)

Price: 540 € per person (accommodaiton in double/twin room)

Single room supplement: 90 € (obligatory for all individual clients)

Price for solo travellers (incl. also single room supplment): 810 € per person

Price includes: transfers to and from Sofia Airport and all other transfers for the daily treks as per itinerary; accommodation and catering as mentioned; detailed route notes in English and maps; 24/7 emergency hotline.

Price does not include: extra meals and drinks; lift tickets (appr. 10 Euro/pp); medical insurance (make sure it has adventure sports coverage); entry fees and personal expenses.