Bulgaria on a Shoestring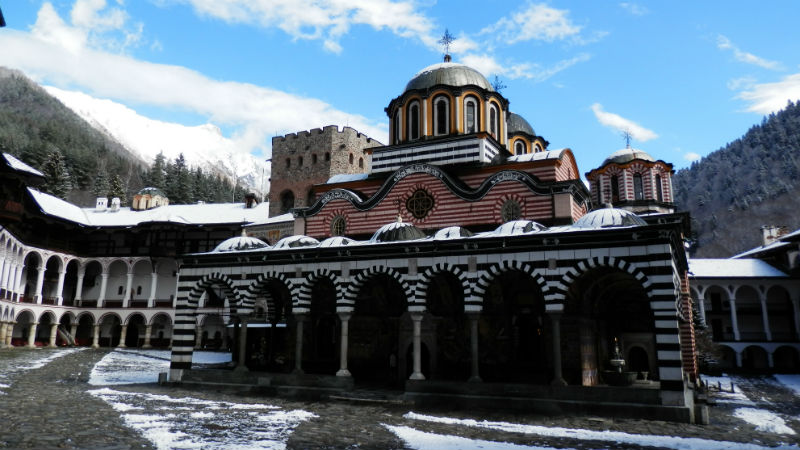 From ancient times the people inhabiting the Balkans have been highly susceptible to different cultural and economic influences. Its turbulent history has left varied landscape of local ethnographic specialties, enigmatic antique findings, and unsuspecting huge variety of traditions. With this intensive itinerary we utilize your time to visit the most important and memorable sites in just four full days of sightseeing. There are astonishing experiences ahead of you in a tour especially designed to exceed your expectations.
Itinerary

Day 1. Sofia Airport - Sofia
Welcome at Sofia Airport and transfer to a 3-stars hotel in the center of Sofia for 4 nights. (http://sofiaplacehotel.com or similar)
Day 2. Sofia – Rila Monastery - Boyana Church - Sofia
You Overnight in Sofia. (B/-/-)
Day 3. Sofia - Plovdiv - Koprivshtisa - Sofia.
Sofia – Plovdiv – Sofia discounted short breaks in bulgariaAfter breakfast you head towards Plovdiv – the artistic capital of Bulgaria. A guided tour of the Old Town – an architectural complex of medieval churches, neat houses from the late Bulgarian renaissance and numerous well-preserved Roman buildings (2-5 century). We visit the ethnographical museum located in a revival period house with 130 windows! Internationally famous painters and artists find their inspiration and muse in the Old Town of Plovdiv. A cup of aromatic coffee from some of the shops with a breathtaking views over the town and then we continue along the coble streets towards the Main Street and the modern center. Free time. Transfer back to Sofia. (B/-/-) * A wine tasting in a famous winery near Plovdiv can be organized upon request. Additional payment is required. ** A folklore evening in Sofia can be organized upon request. Additional payment is required.
Day 4. Sofia – Veliko Tarnovo – Arbanassi – Sofia We leave Sofia to travel to Veliko Tarnovo – the medieval capital of Bulgaria. The town has a strategic position between the East and the West, and its safety is guaranteed by the idyllic hills and meanders of Yantra River. The sight of the walking tour is naturally Tsarevets fortress – the visit card of Veliko Tarnovo. In the afternoon we explore on foot the nearby village of Arbanassi. Special attention will be drawn to the Konstantseliev's fortress-house (17th century) and the nearby Nativity Church (16th century), with its unique fresco ensemble. (B/-/-)
Day 5. Sofia City Center – Sofia Airport Breakfast and transfer to the airport according to your flight schedule
Dates, Price & Remarks

If you would like to include/exclude something in your itinerary, we will be happy to tailor-make your program according to your preferences.
Best period: May-October (other months also possible)Accommodation: 3-star hotels, en-suite double rooms on bed and breakfast.Price: 1 pers. - 540 Euro; 2-3 pers. - 310 Euro/pers.; 4-7 pers. - 270 Euro/pers.; 8-12 pers. - 250 Euro/pers.
Single room supplement: 80 Euro
The price includes: entrance fees, transfers from/to Sofia airport and private transportation with convenient car or Minivan throughout the tour; English-speaking guide (for 1-3 people the guide is also a driver); accommodation and boarding as mentioned; detailed map of Bulgaria, VAT and all local taxes.
The price does not include: tips, other meals, alcohol drinks and personal expenses